Since we are officially in December now, I don't feel totally inappropriate listening to Christmas music and wearing my holiday pins (yes, I am a total dork!) around the office.
Once Thanksgiving passes, anything I can do to celebrate the season, I am totally on board with…
…even generating a fantasy list of some of the gifts I would ask for if we had unlimited funds…
A girl can dream, right?!
1. Nike TR Luxe
I did ask for new sneaks, but these are completely out of the question because they no longer make the color scheme.
I am pretty loyal to my Nike Free Runs, which I truly believe are the most comfortable fitness shoes I have ever worn, but when I tried on the TR's, they also were pretty fabulous and supposedly better for the side movements I do in Zumba.
Although I have not found the PERFECT color combination of TR's, I will at some point purchase a pair.
Who couldn't use another pair of tennis shoes?!
2. PINK Lap Top
Ryan and I are going to buy a new lap-top, and he has hinted it may be something he is purchasing around the holiday.
We usually do not buy each other gifts, instead opting for trips together or experiences we can enjoy with one another, but if he does want to make a new office buy, a pink notebook is definitely on my list.
I have heard a lot of good things about Mac's but I just don't know if I am sold.
I love my iphone, but one super fancy technological gadget is enough for me. Plain and simple notebook is just fine….as long as it is pink 🙂
3. Tory Burch Boots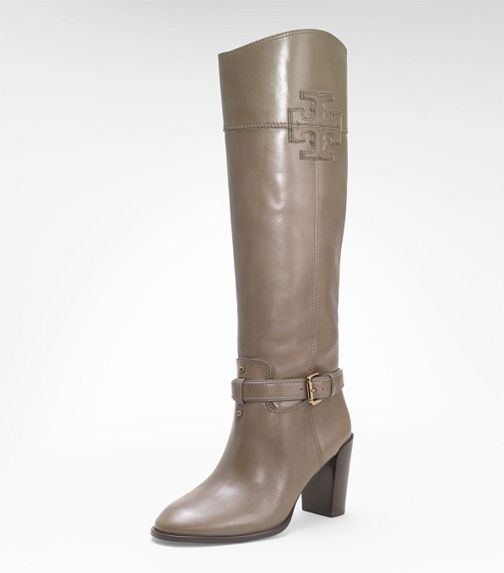 Tory Burch makes a seriously comfortable shoe.
Flats, heals, boots…all of them are foot-friendly.
I scored a few pairs of her flats on sale at Saks Off Fifth and really do love them, but when I saw these boots I couldn't help but drool.
My mom and brother are major shoe lovers, and I really think it was passed down through the gene pool because sneakers, pumps, wellies, pretty much any type of footwear, is a favorite of mine.
And speaking of wellies…
4. Burberry Classic Wellies
Tell me those aren't special for the winter?!
5. Louis Vuitton Mon Monogram Neverfull
Don't even get me started about this bag.
Obviously the monogram would be my initials and DEFINITELY another color (I am not really a red person) but a few years ago I saw the initialed Louis Vuitton bags when we were in Monaco for our anniversary and I told Ryan, one day I would love to have one.
At nearly $1,300 it is definitely not happening this year, but perhaps sometime in the future…
This is my WISH list, after all.. 😉
6. David Yurman Heart Charm Bracelet
And last, but not least, I have always loved this cute little David Yurman charm bracelet.
I am attracted to pretty much anything with hearts, and I got my first DY bangle as a very special gift when I was a senior in high school, which I still wear every day.
I have always thought this was adorable, and awesome that you could add charms, DY or not, to make the wristlet grow and become even more personal. Plus, this one I could actually afford if I cut my spending in a few other areas.
Of course I am not really asking for these items.
They are just a bit out of my price range at this current moment, and although I still like to believe in Santa (who doesn't?!), he has much bigger priorities than a $1,300.00 bag.
It was kind of fun, however, to make an imaginary list and do a little cyber "window" shopping.
How about you? What is on your list? Your WISH list?